Since there are so many items that transform your character into something else entirely, I'm giving those items a special day of the week, separate from the other toys of Azeroth. I shall call it "Transformation Thursday"! *cue maniacal laughter*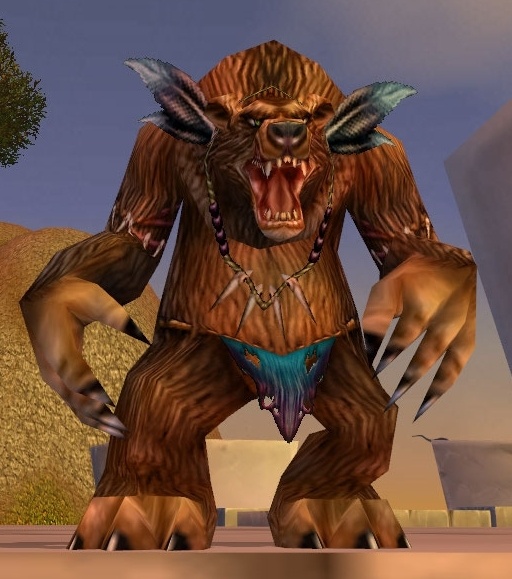 Some of you may remember a quest back in Vanilla where you had to transform into a furbolg in order to speak to some crazy furbolgs and make them stop being crazy. That was
Dartol's Rod of Transformation
in action. It was an Alliance-only quest, sadly, so many Horde players never got the chance to be a giant slavering bear-man. However, the item was removed with the quest it belonged to since Azeroth burned to the ground with Deathwing's arrival.
Fear not, though, as not only did Blizzard give us a similar item in the
Stave of Fur and Claw
, they made it available to both factions. The only major obstacle now is that you have to be exalted with Timbermaw Hold to purchase it from the vendor there. There's a catch, though, to the new item. Where Dartol's Rod was a three minute buff on a one minute cooldown, this is a three minute buff on a
one hour
cooldown. It's also broken by damage, which is a bit irritating.
I recall a certain friend of mine who insisted on being in furbolg form pretty much at all times. I think she may have macroed it into her most commonly used spells and actions, so that at any given time, if she could, she was refreshing the buff.
So get exalted with the bear-people, drop 60g, and run around in a loincloth for three minutes.
It's totally worth it.