The WoW Trading Card Game has always had some fun toys. I'd like to discuss a pair of them today. The
Path of Cenarius
and The
Path of Illidan
offer you the chance to make an impression with every step you take.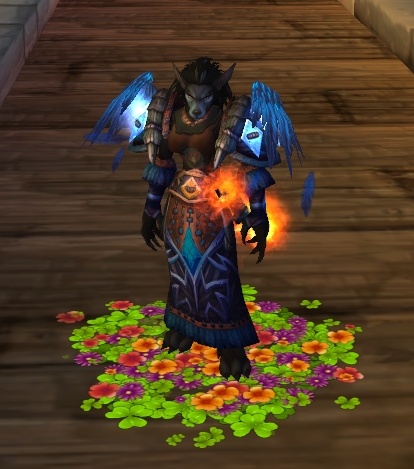 Path of Cenarius
leaves small sprouting flowers behind your character as you move, a small effect that looks great with any druid, especially restoration and balance druids.
This card is available from the Fields of Honor TCG Expansion Set.
Path of Illidan
, meanwhile, leaves small burning green flames behind you, perfect for a variety of classes, but especially demonology warlocks in
Demon Form
.
This card is available from the Hunt for Illidan TCG Expansion Set.
Both effects last for five minutes, and each loot card is worth a stack of 100 charges. This means you get a little over 8 hours of flowery or burning fun. In my experience, most people who use a charge will invariable run around a major city, trying to draw little designs. By most people, I mean me.